DEER FEEDERS
DEER BLINDS
FEED WAGONS BULK FEED OPTIONS
GAME HANDLING
FIRE & BBQ PITS
LED LIGHT BARS
follow us on:


*We Accept Credit Cards*


WELCOME TO A & E OUTFITTERS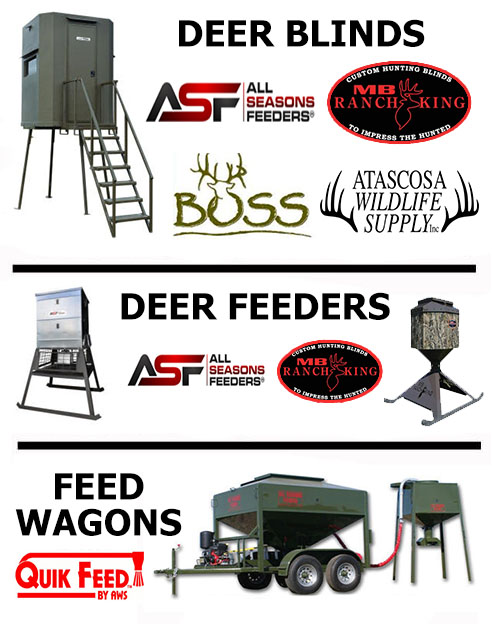 A&E Outfitters is a turn key operation whether you are a ranch owner, manager or even someone looking to book a trophy whitetail hunt this year, we can help you. We have only the best products available. A&E Outfitters offers the excitement of whitetail hunting on 6, 000 acres of hunting land, where guides will spend as much time as possible in the field pre-scouting the ranch for all size bucks to ensure the most successful and memorable hunt we can provide.
As an Outfitter, we can also help prepare your ranch or lease to produce your very own Dreambuck. We specialize in customer service, never worry about setting up Hunting equipment.
Feeders, Blinds or even Food Plots again. We are a Full service Hunting Ranch Outfitter offering you a more personable sincere service. We pride ourselves in letting you or your clients have the season of a lifetime. Call or E-mail now to schedule delivery and setup on your ranch or deer lease. All Hunting equipment will be delivered and setup for you. Save those days off for the hunt and let us prepare you for your season. Replace all of your old hunting equipment for the last time. As a hunter, we know you have choices. We feel privileged that you are considering A&E Outfitters for your next hunting experience. If you hunt, or order any products from us, we'll outwork anyone to earn your business and deliver an extraordinary hunting experience.

Thank You and Have A Great Season!
Eric Gonzales, Owner
A&E Outfitters
NEW!!

Snyper Hunting Products

Introductory Offer.

$399.00

w/Free Shipping

Total Package:

Snyper 4g-LTE Cell Cam with Solar, Internal 12v lithium Battery and T-Post mounting bracket.

---

Guided Hunts

Whitetail – Elk – Exotics – South African Hunts

Whitetail Prices

---

Dimensions:
64" x 64" inside dimensions
6.5' walls
70" x 24" insulated door

Blind Features:
(7) 24" Grey glass windows by Deer View
Window options - rifle window, bow window, or combo
2" of sealed foam insulation
9' of padded shelving
Aluminum extrusion reinforcements
Carpeted floor
Exterior rain shields
Built in Air Vent for temperature control 15 degrees cooler than the competition!
Insect and rodent proof construction
Custom padded gunrest included
Polyurea coated inside and outside for durability

Stand Features:
5' Stand and ladder with handrail
Square tubing construction
Diamond plate platform and steps
SUPER easy set up - can be done in 20 min or less

5x5 Blind
JUST ADDED!
Now carrying

Tough Country Torch Bars